As was announced last Sunday, we will take a special collection in support of those affected by the typhoon that devastated large parts of the Philippines. Typhoon Haiyan was one of the most destructive natural disasters ever and thousands of people, perhaps as many as 10,000, have lost their lives. This special collection will support Catholic Relief Services, which is already on the ground and operating. Your offering will help those who have no food, water and sanitation and assist in the rebuilding efforts.
Prayer for the Philippines
O God who quiets great winds and stills rough seas,
We ask your protection for the people of the Philippines.
Comfort them in their fear.
Stay close to them in their danger.
And we ask the intercession of Your Blessed Mother.
That together with her and with all your holy saints,
We may stand in solidarity withour Filipino brothers and sisters
through their darkest hour
through their longest night.
GIve us the courage to remain steadfast,
To reach out to them in their need
To comfort them in their sorrow
To hold them as closely as You hold them
To see them to the morning.
Amen
 Fr. Jim
Read more...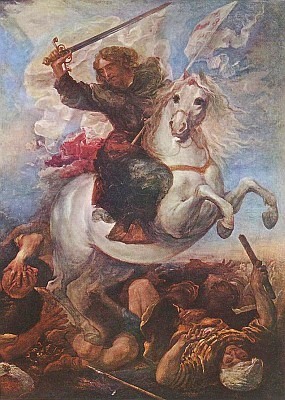 St. James the Greater, Juan Carreno De Miranda 1614
James was one of the favored three who had the privilege of witnessing the Transfiguration, the raising to life of the daughter of Jairus and the agony in Gethsemane.
Holy Scripture describes James as one of Jesus' favored apostles in his inner circle.  We know little of this Apostle other than that his fearless confession before King Herod so moved the public prosecutor that he declared himself a Christian on the spot. Accused and accuser were hurried off together to execution. Even in the face of death, James never lost his faith or his courage. 
Read more...
"Your life must be woven around the Eucharist. Direct your eyes to Him, who is the Light; bring your hearts very close to His Divine Heart; ask Him for the grace to know Him, for the charity to love Him, for the courage to serve Him. Seek Him longingly." (Blessed Teresa of Calcutta 1910-1997) Yes Jesus in the Eucharist is at the center of our parish. Therefore we cannot remain alive in Christ and grow in His love if we do not celebrate the Eucharist on Saturday evening or on Sunday. We cannot stay alive in Christ if we absent ourselves from the Sunday celebration of the Eucharist. Celebrating the Eucharist during the week will also help deepen our love for God and our neighbor, although we are not obligated to attend Mass during the week as we are on Sunday. As Mother Teresa said,  "your life must be woven around the Eucharist."
Read more...
November 2 & 3, 2013
 Lectors:
5:30 Moya Doneghy 
10:30 John Polak
Eucharistic Ministers:
5:30  Deborah McDougall & Sue Spencer 
10:30 Judy Polak & Tom Resler
Acolytes - Saturday:
1. Evelyn Ferguson
2. Sr. Fran Kirtley
3. Matthew Ferguson
Acolytes - Sunday:
1. Connie Vaughan
2. Chris Joseph
3. Nathaniel Burdette

Click here to view the Full Lectors and Ministers Schedule